Which 360 Video Editor Should You Use?
Aug 03, 2023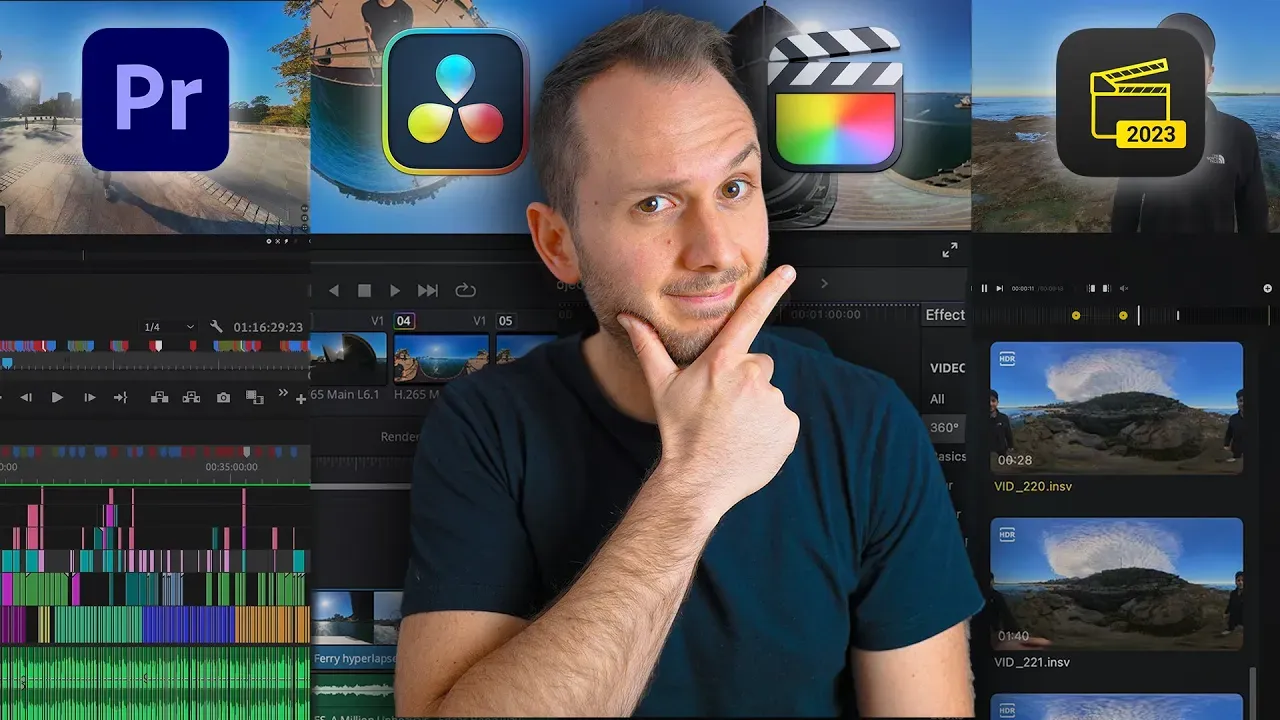 Which desktop-based 360 video editing software should you use? 🤔
Choosing a video editor is one of the most crucial decisions you'll need to make as a 360 video creator, both in terms of money (either upfront or the long-term cost) as well as time in the time you invest in getting good at them.
So, in this article, I'll compare the top four desktop-based 360 video editors, diving deep into the pros and cons of each, and ultimately which ones I recommend for whom.
So, without further ado, the four contenders are:
👉 Adobe Premiere Pro
👉 DaVinci Resolve
👉 Final Cut Pro
👉 Insta360 Studio
These four programs can not only reframe 360 videos into flat 16x9 videos but also have the ability to edit your 360 videos as 360 videos for VR. While there are other options on the market, these four are the best and most feature-rich when it comes to editing 360 videos. So, let's go through them one by one!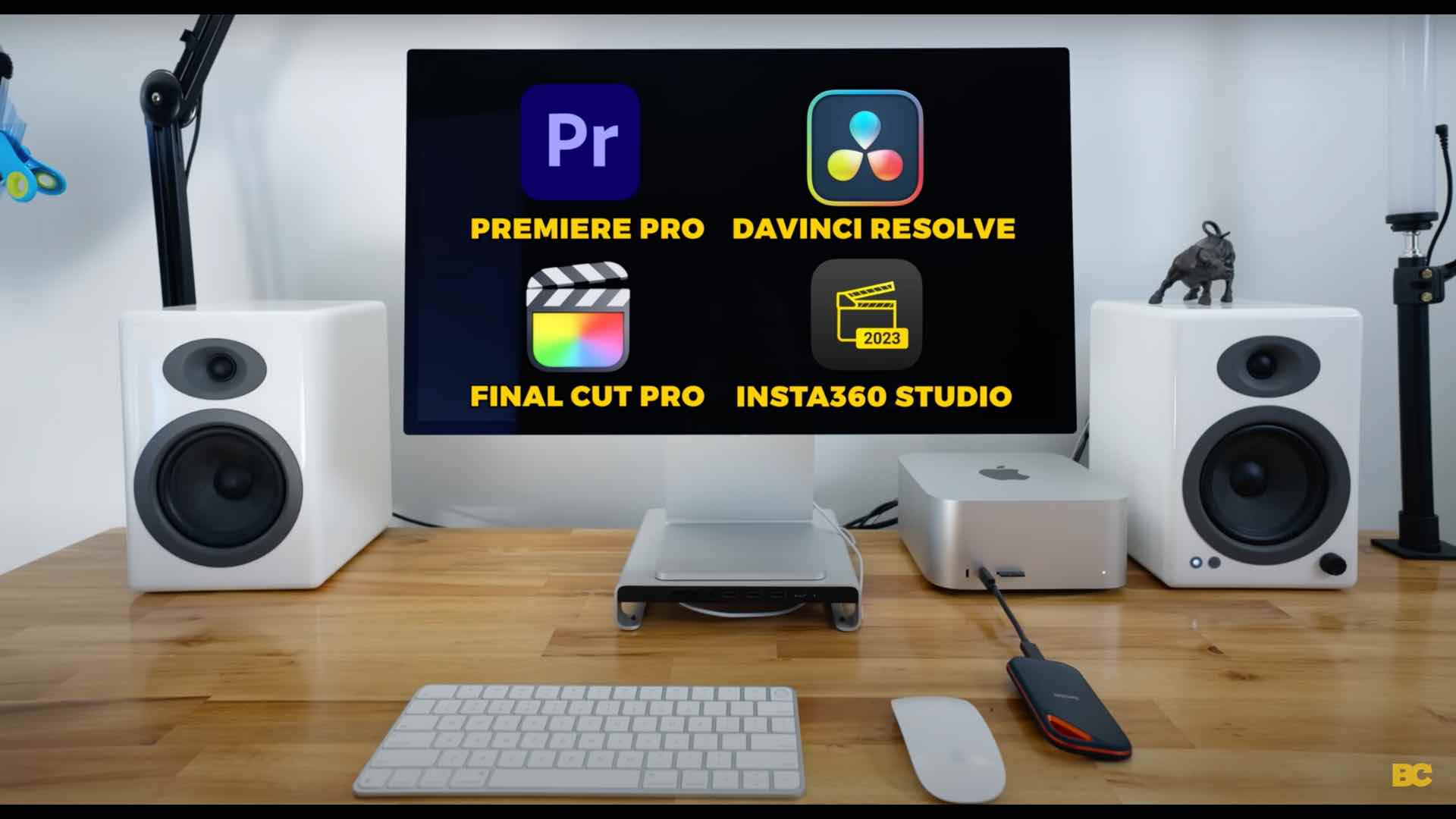 Insta360 Studio is a free software made by Insta360.
The PROS ✅
It's easy to use.
Insta360 Studio is designed with a simple and user-friendly interface, making it easy to pick up and reframe 360 videos in minutes. It's one of the only 360 video editing softwares that is specifically designed for trimming and reframing 360 videos as its sole purpose. Therefore, you can expect the best and quickest reframing experience with it.
It has low to medium system requirements.
Insta360 Studio does not require a powerful computer to use since it works with lower resolution proxies, which are automatically generated by Insta360 cameras to help speed up editing.
It's cost-effective.
Insta360 Studio is 100% free, at least to anyone who owns an Insta360 camera, making it accessible to anyone who wants to dabble with 360 video reframing without investing in a full-featured video editor.
The CONS

❌

It has limited features compared to the other three programs on this list.
Insta360 Studio has a much more limited range of features and is missing a bunch of important ones that are crucial for editing longer videos. This includes editing multiple clips into the same timeline, adding effects and titles, adjusting audio levels, and manual color correction. For this reason, it can only be used for reframing clips one at a time. This may or may not change in the future.

It has limited format support.
As mentioned, Insta360 Studio specializes in the 360 video format. Meaning if you want to also edit regular videos from non-360 cameras, you'll need to use a different editing software.

Overall, Insta360 Studio delivers a great experience for 360 video reframing, and for a completely free software, it is a must-have for any 360 video creator. ✅
The PROS ✅
It's versatility.
Premiere is a versatile software that can be used for a variety of video editing tasks, including 360 video editing as well as non-360 videos, which is essential for anyone making any kind of video professionally.
It has a robust suite of editing tools.
Premiere Pro has a wide range of advanced editing tools that can be used to create highly customized video edits, including using as many audio and video clips as you like. You can add effects and professional titles, editing sound with a high degree of control, as well as color correcting using the Lumetri color correction panel.
Keyframing 360 videos.
While it's not always as quick and responsive as Insta360 Studio, you can create keyframes with a high level of customization easily using the GoPro FX Reframe plugin.
High-Resolution Exports.
Premiere allows for high-resolution exports, while other editors sometimes cap out at 4K. Premiere allows you to export your videos as large as you like, which is especially handy for VR videos where you're exporting at resolutions of 5.7K and up.
Premiere has an Inbuilt 360 viewer.
For projects that you are intending to be in 360, you can edit your clips as 360 videos and be able to look around them without having a timeline filled with equirectangular videos, which don't visualize the immersive experience very well in comparison.
Insta360 no stitch workflow.
When you download Insta360 Studio, you'll also be prompted to download a Premiere plugin, which allows you to drag your INSV files directly into Premiere, completely bypassing the stitching step, saving you a lot of time in your workflow.
The CONS

❌

There is a steep learning curve.
Premiere is a powerful software with a wide range of features, which can make it difficult to pick up quickly, especially for new users. If you're a seasoned editor, though, the learning curve is much simpler.

Premiere has higher system requirements.
This mean that it requires a powerful computer with a high-performance CPU and GPU to run smoothly, which can be a barrier to entry for users with older computers.

The cost.
Premiere is not a free software and requires a monthly subscription to use, which does add up over time. In my opinion, it's worth it, but it's still something to be aware of.
DaVinci Resolve is a color correction software turned video editor by the camera company Blackmagic.
The PROS ✅
It's free.
And, it gives you access to most features of a fully-fledged video editor, which is pretty amazing.
It supports multiple formats.
Including 360 videos and non-360 videos. Well, it, at least, lets you change the timeline's aspect ratio to 2:1, which is the equirectangular 360 video format, meaning you could potentially use it for all of your video editing needs.
It has a full suite of features, just like Premiere Pro.
DaVinci Resolve has a comprehensive suite of editing features, including multi-track video editing, music and sound editing, text effects, and, of course, color correction. DaVinci is also an advanced color correction tool and has the best color correction ability of all software, as it did start primarily as a color correction tool.
You can reframe 360 videos 100% inside of DaVinci Resolve using the Karta VR plugin.
And, it's actually really good. I'd say as good as the GoPro FX Reframe plugin for Premiere since it allows you to produce advanced animations around your 360 videos as well as smooth transitions in between keyframes. It is a little bit harder to pick up than the GoPro FX Reframe plugin, however, so in terms of ease of use, just be prepared for a bit more of a learning curve.
The CONS

❌

The steep learning curve.
While the interface of DaVinci is user-friendly, just like Premiere, it has a lot of features and tools that can be overwhelming for beginners.

It's resource-intensive.
DaVinci requires a significant amount of computing power, which can slow down your computer if you have limited hardware.

Limited export quality.
While you can get most features with the free DaVinci Resolve download, one big limitation is that your exports will be limited to 4K for reframing 360 videos this is okay. Since your end result is unlikely to be any higher than that anyway. But for VR videos when you are exporting at much higher resolutions, using the free version of Resolve will significantly reduce your export quality, which is where the cost becomes a con as well as a pro. To unlock higher resolution exports and other higher level features you'll need to pay a few hundred dollars for DaVinci Resolve studio. For a professional video editor this is expected but it is a bit steep for beginners just starting out.

No inbuilt 360 viewer.
If you are editing your 360 videos for VR, then you're going to have to purchase subscriptions of expensive third-party plugins in order to get just basic VR playback. Otherwise, even if you do upgrade to the paid DaVinci version, you'll still be editing the equirectangular videos, which aren't really optimal for creating an immersive experience.
The PROS ✅
Easy to use.
Final Cut Pro has an intuitive and user-friendly interface, making it easy to pick up for both beginners and more experienced users.

Lots of editing tools.
That said, it still has some pretty comprehensive editing tools, including:
👉 Multi-track editing
👉 Advanced color correction
👉 Audio editing
👉 Text graphics

And, just like Premiere and DaVinci it also has multi-format support.
It's highly 360-friendly, especially for VR - Edit 360 & Non 360.
Final Cut Pro allows you to edit both regular videos and 360 videos. Not only can you set up your timelines as 360 video timelines at high resolution, but you can also easily view back your videos in 360 and adjust other factors like the horizon and orientation with potentially the fastest response time of any program.
This makes it a great candidate if your sole use case is 360 videos for VR.
It's fast performance.
Final Cut Pro is faster than both Premiere Pro and DaVinci Resolve as it's made by Apple and better optimized for the Mac platform, which means it can run quickly and smoothly on most Mac computers.
The CONS

❌

The cost.
It's a few hundred dollars upfront, and this can be prohibitively expensive for some users.

Final Cut Pro is Mac-only.
This means if you have a PC, it won't be an option.

360 video reframing.
While I do like the fact that Final Cut recognizes 360 videos as 360 videos without having to tell it that that's what you've imported, the inbuilt reframing tool, however, is a bit on the basic side, and you also can't customize the transitions. So it really isn't anywhere near the level of the other three programs in terms of reframing.
So, which one should you choose?
All four editors are viable options. ✅
As with any investment, it's essential to consider what you can comfortably afford. Paying years worth of subscription fees for software you only use occasionally can be hard to justify. On the other hand, going for a completely free software with significant limitations could hinder your work when you can afford a paid editor that's better.
Therefore, it's best to pick the editor with the most amount of features and least limitations that you can also afford.
Price Comparison
Firstly, Insta360 Studio is completely free 💸, which makes it a no-brainer download for all Insta360 camera owners. While you can't edit multiple clips with it, you can use it solely as your reframing tool used in combination with any of the other three editors.
Next, we have DaVinci Resolve, which also has a free version with a wide range of editing capability. If you're only planning on making reframed 360 videos and happy to work within the 4K limit, then DaVinci really is a no-brainer since it delivers so much for literally no cost. If you're shooting 360 videos for VR, however, and want to export your videos above 4K, then it will cost 295 USD to upgrade to DaVinci Resolve Studio, which also includes additional features such as Motion Graphics, Advanced Audio editing, and more.
Moving on to Final Cut Pro and the pricing model is also a one-time purchase price of 299 USD. This purchase includes all updates and new features that get rolled out from year to year. Final Cut will be the best choice for beginners who are on a Mac and want a simple video editing experience that performs well on a wide range of Mac computers. However, it doesn't offer much over DaVinci, aside from generally faster performance and that immersive VR viewer.
Finally, there is Adobe Premiere Pro which is a monthly or annual subscription starting at 20.99 USD per month for an annual subscription of Premiere alone. Alternatively, you can have it included within the Adobe Creative Cloud Suite, which is currently 54.99 USD a month and includes 20 plus other Adobe products such as Photoshop, Lightroom, After Effects, Audition, and more.
The downside of the subscription model is that you have to keep paying for it year after year and it turns your overall amount spent from hundred to thousands after several years of subscribing.
The main pros of choosing Premiere are:
1. It's less money upfront if you go on a month-to-month basis compared to Final Cut Pro or the paid version of DaVinci. 💰
2. You do automatically get all future updates and added features, and they do update all of their programs constantly with amazing new features and tools that make both video and photo editing better. 🙌
3. In my personal opinion, Adobe offers the best products when it comes to video and photo editing. Premiere is really nice to use once you get the hang of it, and it will allow you to create professional-looking content quickly and easily. 🧑‍💻

In terms of 360 video, it offers a fantastic experience for both reframing. I edited my entire 360 video 101 course inside of it, which is filled with reframed 360 videos that I was able to get great results. Also, it has a good VR editing experience that is second only to Final Cut Pro and will be a great option for anyone editing the immersive medium. That said, the subscription model does add up over time, so only consider subscribing if you're working professionally and easily have enough money coming in to justify the subscription cost.
I've personally been using Premiere for around 10 years, and it has been my go-to software for editing my YouTube videos, my online courses, and my 360 videos, both as reframed and for VR. That said, if you're just starting out and don't want to invest in software yet, I'd recommend using Insta360 Studio for reframing, especially shots that have movement and motion blur, since you can't easily get the same effect with the simple workflow inside of any other program.
And I'd use it in combination with the free version of DaVinci Resolve to edit your clips together, add titles, music, and graphics, as well as the reframing aspect. For shots that don't need speed or motion blur effects, then once you're at the point where you want higher quality exports and more video editing features, that's when you want to consider switching to either the paid version of DaVinci or Premiere Pro.
Personally, Premiere still wins for me since it is the more 360 video-friendly editor. 🥇
However, if you only ever intend to reframe your 360 videos, then DaVinci Resolve will do a good enough job, and there's no need to pay for it. It really just comes down to your personal needs and budget, so it's up to you how quickly you want to invest more for more functionality or whether the free tools are enough to get the job done.
I hope you got value from this article, and don't forget the key to creating amazing 360 videos isn't just about which tools you use but how to use the right tools to get the best results.
My 360 Video 101 course not only has in-depth guides on DaVinci Resolve, Premiere Pro, and Insta360 Studio, but it also shares all the technical and creative techniques you'll need to get professional results every time.
So, if you're ready to fast track your progress and tap into my eight-plus years of 360 video knowledge, simply follow this link to get started.
Happy 360'ing!
Ben Claremont
🎥

 Get my 360 Video MASTERCLASS & start making viral-worthy videos in just 7 DAYS! 🚀
Learn More
Subscribe To My Newsletter! ✉️
Join my exclusive email list and receive valuable 360 tips, tricks, discounts, and more – delivered straight to your inbox!