Insta360 One RS 1-INCH 360 Edition: The 360 Camera We've Been Waiting For?
Aug 16, 2023
Finally, a significant upgrade from an Insta360 camera! 🙌
Meet the ONE RS 1-Inch 360 Edition. And yes, one inch means one-inch sensors. It's got two of them. And this helps it produce the best 360 video quality yet from a consumer camera, as well as matching the image quality of the other top virtual tour 360 cameras.
Is this the 360 camera we've all been waiting for? Well, you'll find out by the end of this article.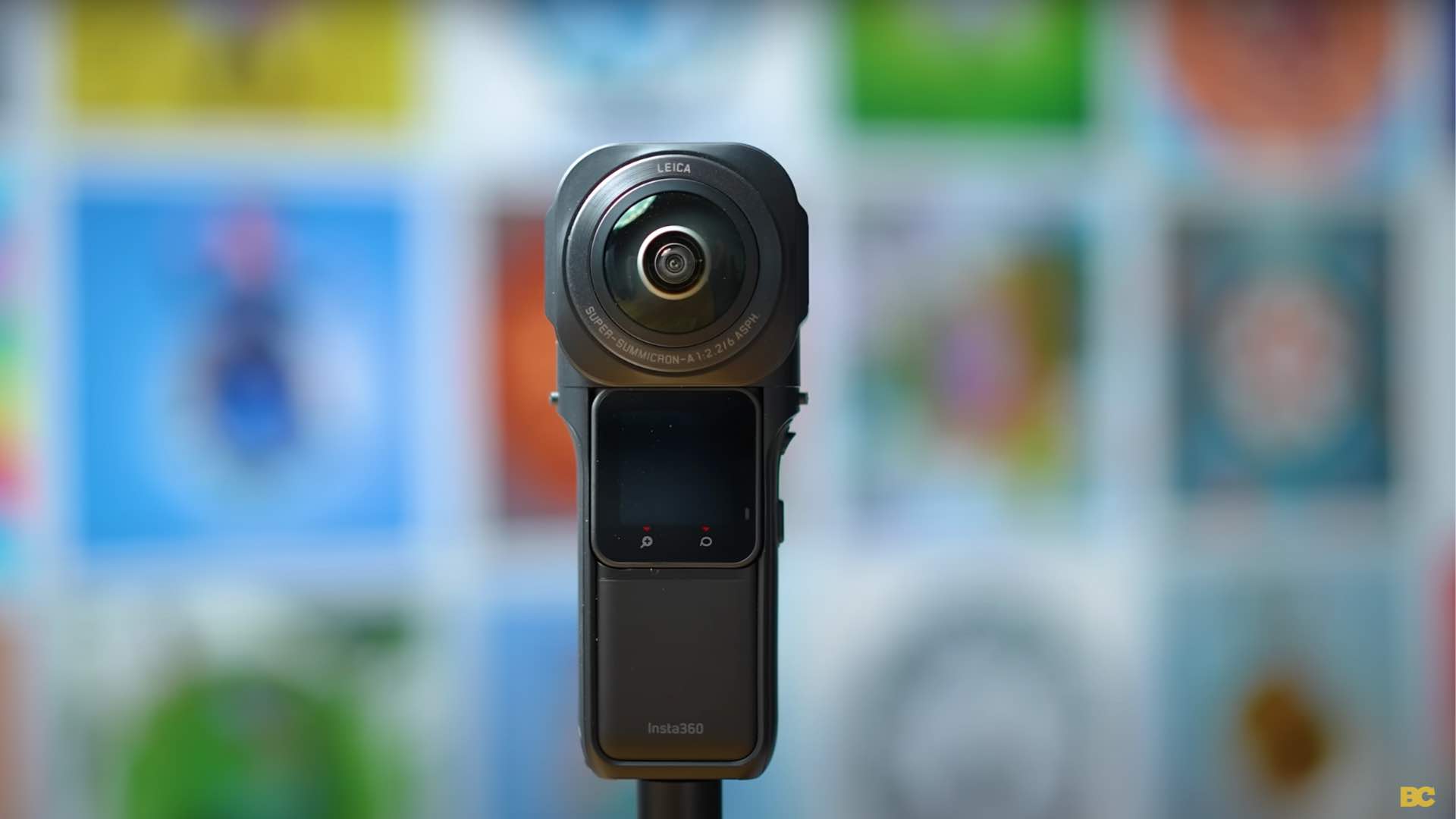 So, this is a follow-up to the recently released ONE RS. And it's different from the previous 360 build of the camera for two reasons.
1. The price is higher. 💵
Bigger sensors equal a bigger price. It's $799 for the full build of this camera.
2. The modular build design. 🎥
Before, it was a rectangular GoPro-like build. Now, it's vertical, and it's more like the shape of a conventional 360 camera. And even though it's thicker than most other 360 cameras, I do like this form factor.
Camera Design 📷
As you will see in the photograph below, you've got:
👉 The vertical battery.
👉 The ONE RS core.
👉 The brand new 1-Inch 360 Edition lens.

And yes, those are Leica F2.2 lenses. This is definitely a great addition to this camera despite them being smudged pretty easily due to the bigger size.
And inside, we have:
👉 Two one-inch sensors - this leads to a big improvement in photo and video quality!
👉 The micro SD card - When the lens is taken off
👉 The USB port.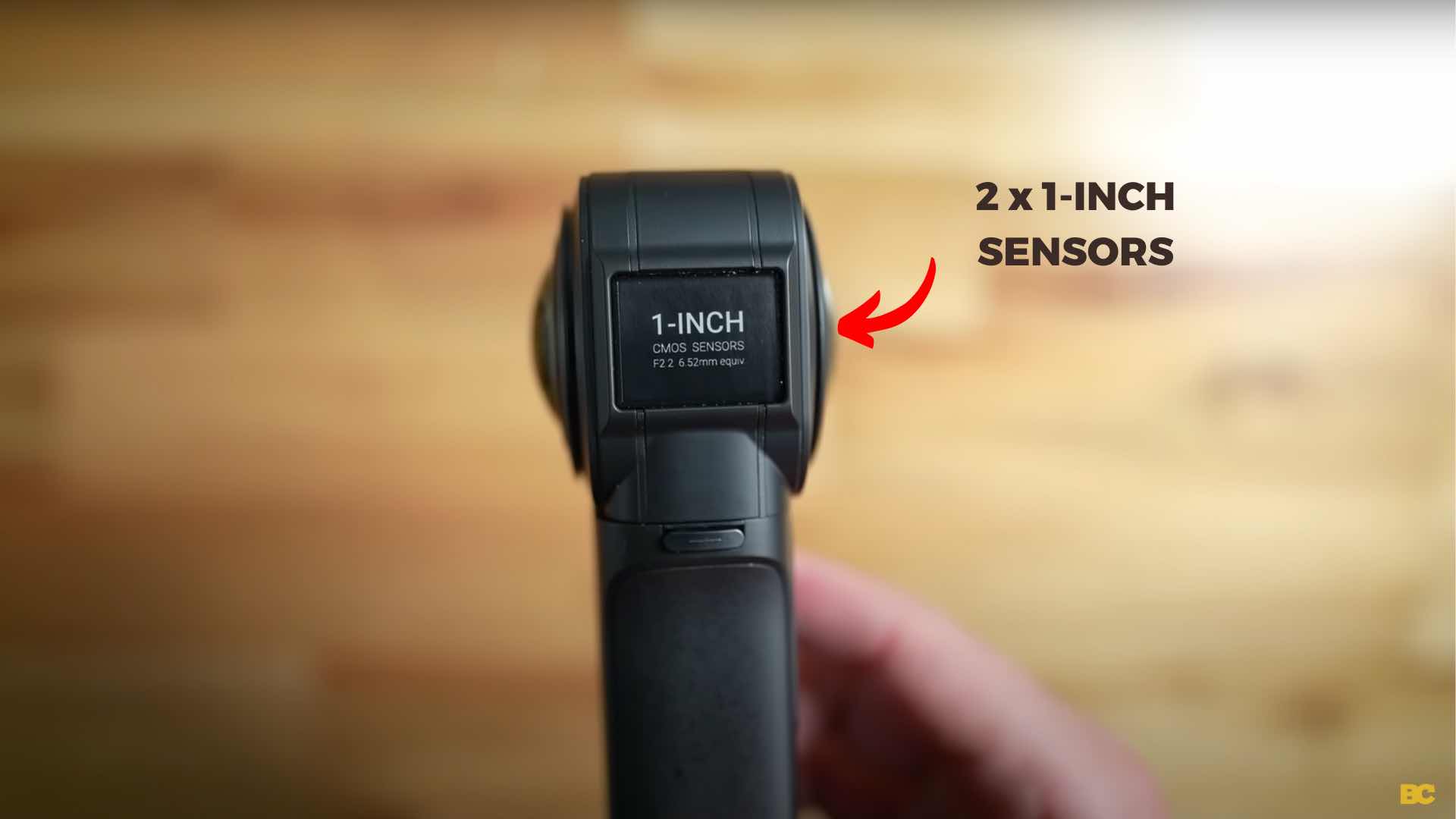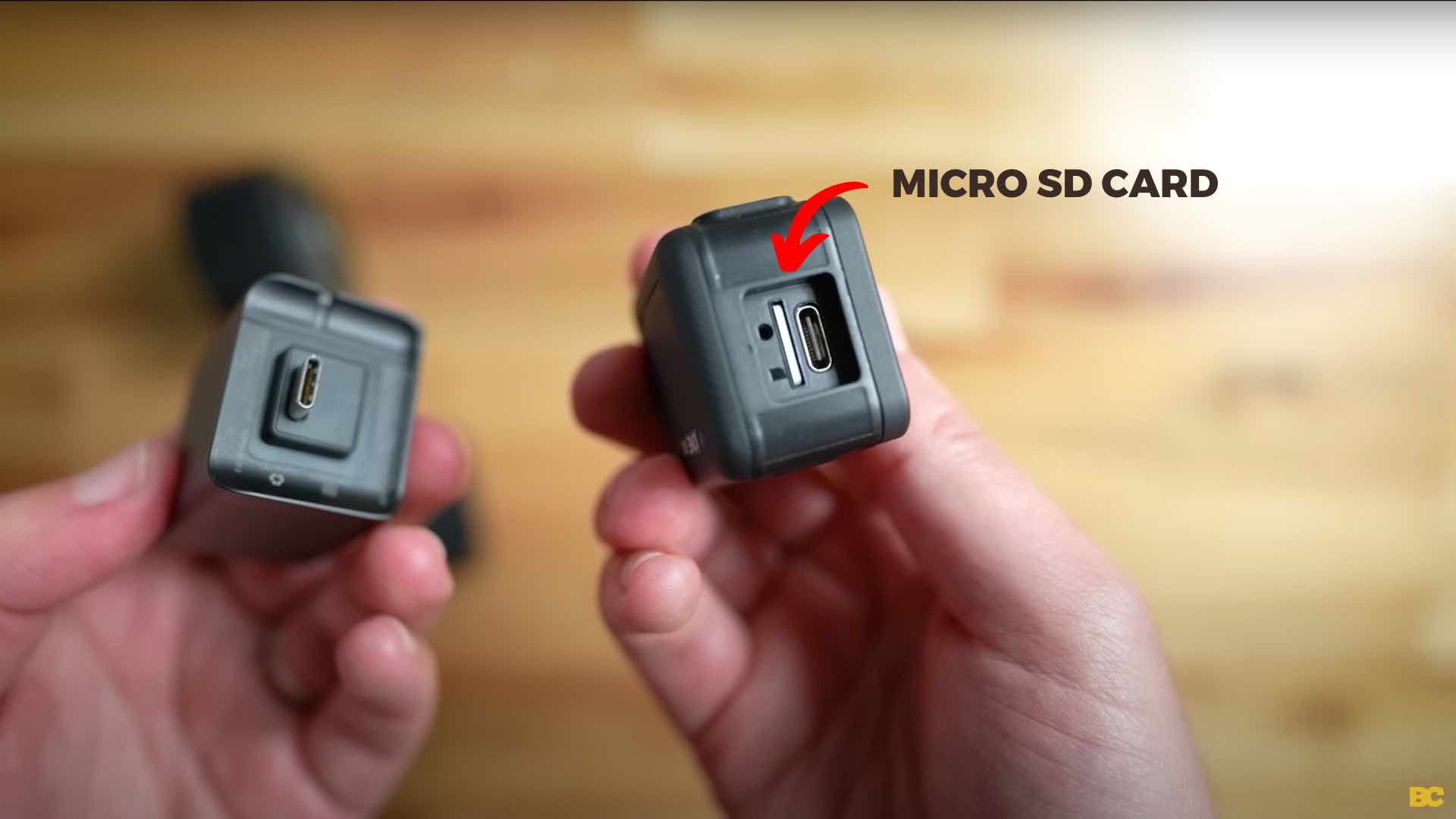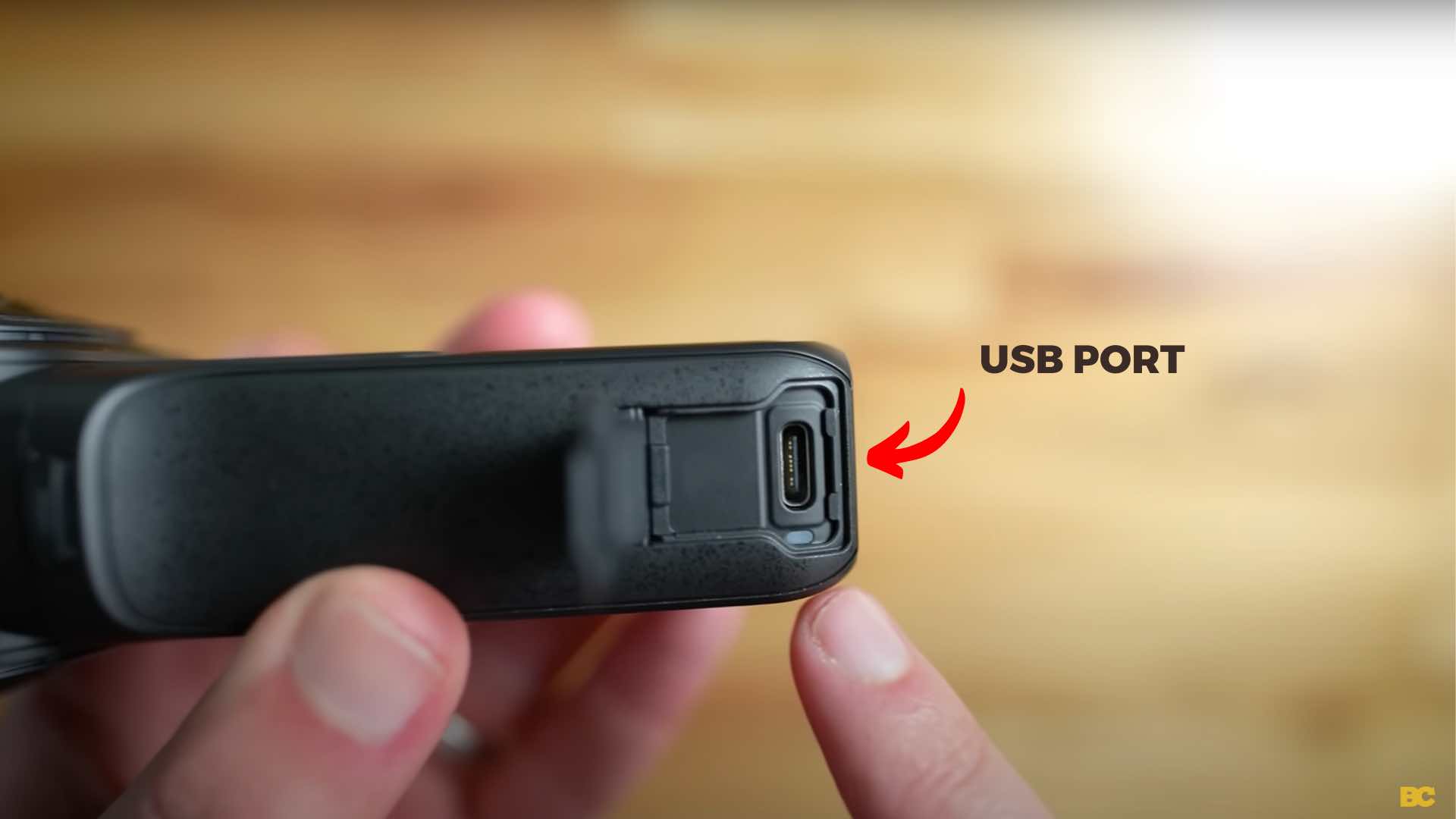 Video Resolution 📼
Another way the 1-Inch 360 Edition differs from the original 360 edition is 360 video resolution. Before, it was 5.7K. Now, it's 6K.
While 0.3 of a K might not sound substantial, there is a noticeable difference in video quality due to the larger sensors. Then finally, the photo resolution has also been boosted from 18 megapixels to 21.

Video Footage 📹
Here, I recorded myself going up the Opera House steps. I looked all around while doing it, and there were no noticeable soft areas and no noise.
There was nothing that looked bad about this video at all. I could even zoom in a little bit, and the quality stayed the same. I don't need to talk about stabilization, because as always, it was basically perfect, and nothing changed. So, it definitely passes the test in slightly overcast conditions. ✅

ONE R Original Edition VS. the One RS 1-inch 360 Edition. 📸
Here, I have placed the original 360 lens side by side with the brand new one-inch sensor 360 lens.
At first glance, they look similar, right? 👇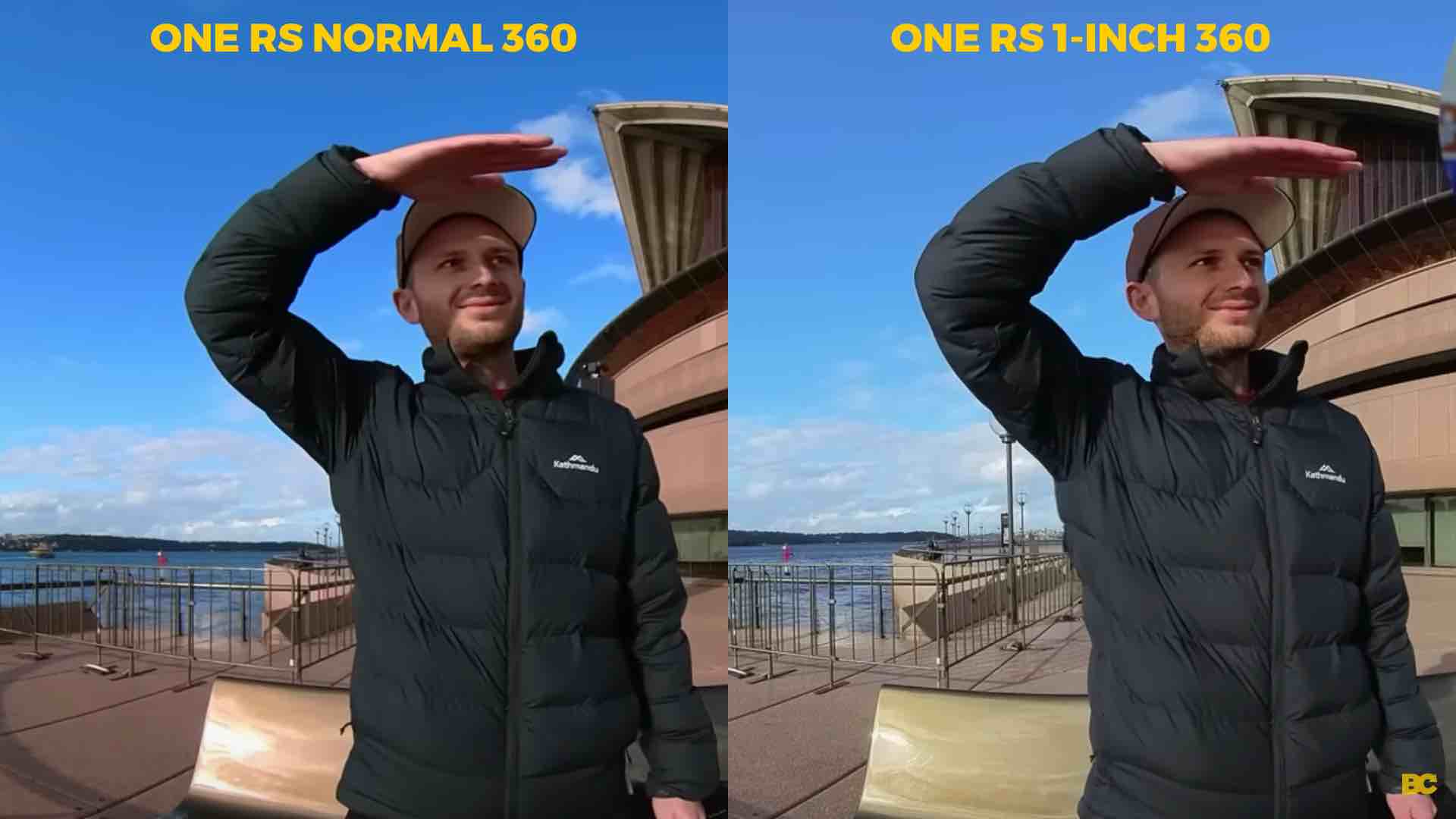 However, upon zooming into the sky, I noticed a fair bit of noise in the original 360 edition, whereas there is almost none in the 1-Inch edition.
This difference is quite noticeable. Undoubtedly, one of the strengths of the new 1-Inch edition is its very low noise in all situations. To see the comparison, watch my full YouTube video here.
Now let's flip it around and focus on the Harbour Bridge.
There is a significant difference in quality here. They appear as two completely different cameras. 👇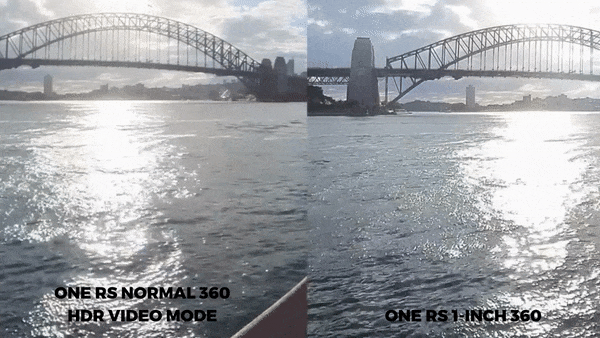 The 1-Inch edition is much sharper ✅, especially when observing the movement of the waves. Even the lines across the Harbour Bridge are much sharper on the right-hand side.
And this is not just a 0.3K difference; it genuinely looks several K's sharper.
So, is the quality better? Absolutely, it is.

Additionally, I wanted to mention that currently, the new 1-Inch edition doesn't have HDR video mode, unlike the previous ONE R edition, which does. Consequently, I was able to achieve slightly better dynamic range when shooting with the previous 360 edition than with the new one.
However, they will probably add HDR 360 video soon enough.
Now, here's a flaw I want to point out, and that is the lens flares. As you can see, the lens flares produced by each camera look quite different side by side.
The original RS has a red lens flare, whereas the 1-Inch has a clear or slightly blue lens flare, which you could consider an improvement.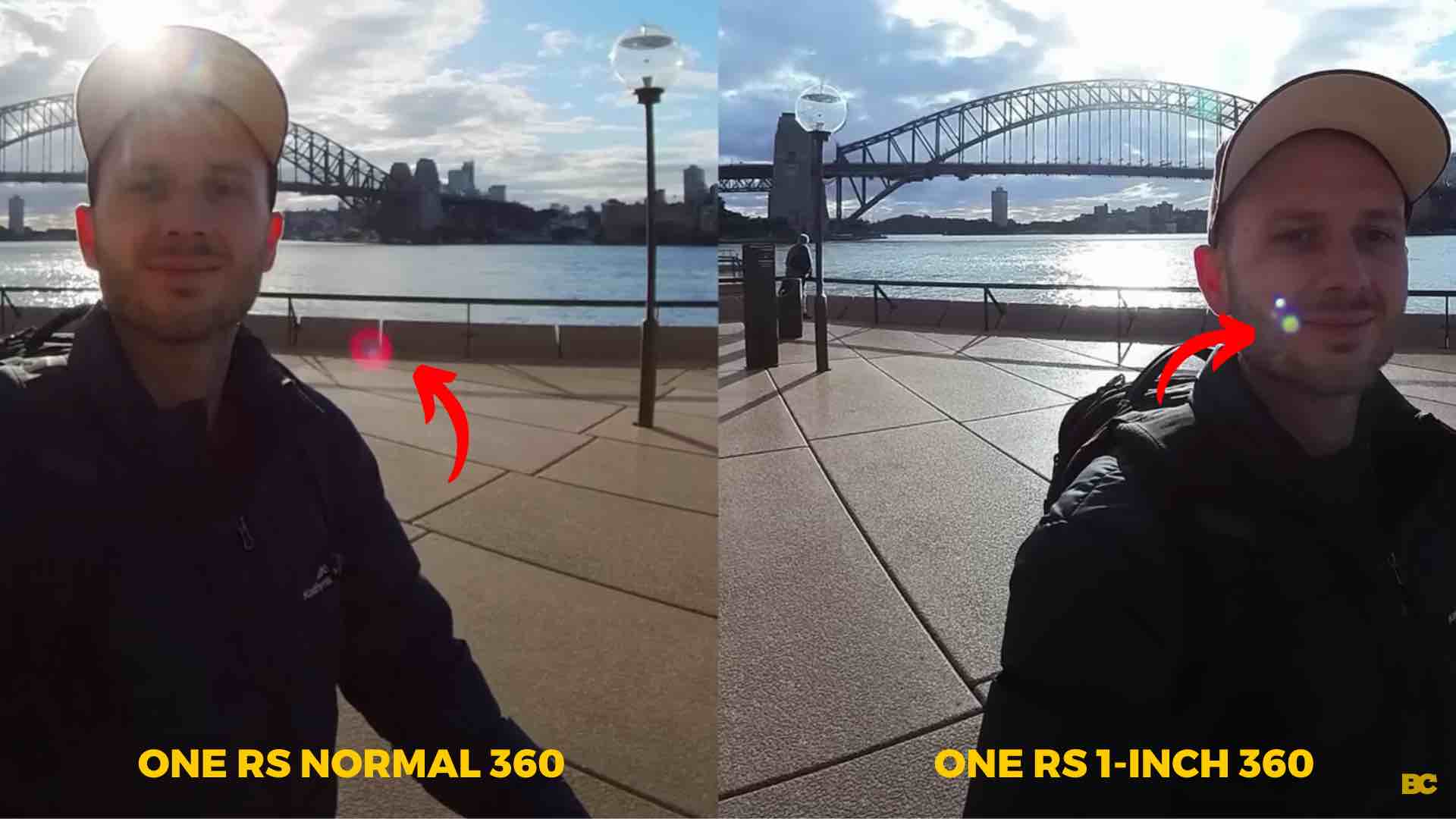 I understand that some people find lens flares annoying, but unfortunately, it's one of those inevitable things when shooting with 360 cameras.
You have to point the lens into the sun, and most lenses create a lens flare as a result. Although I have noticed that since the lens is bigger than before, it tends to flare a bit more often than usual.
However, I found that it performs really well in mixed lighting conditions. Thanks to the large one-inch sensors, it handles the transition from bright to dark to bright quite nicely, without introducing noisy areas or extremely overblown highlights.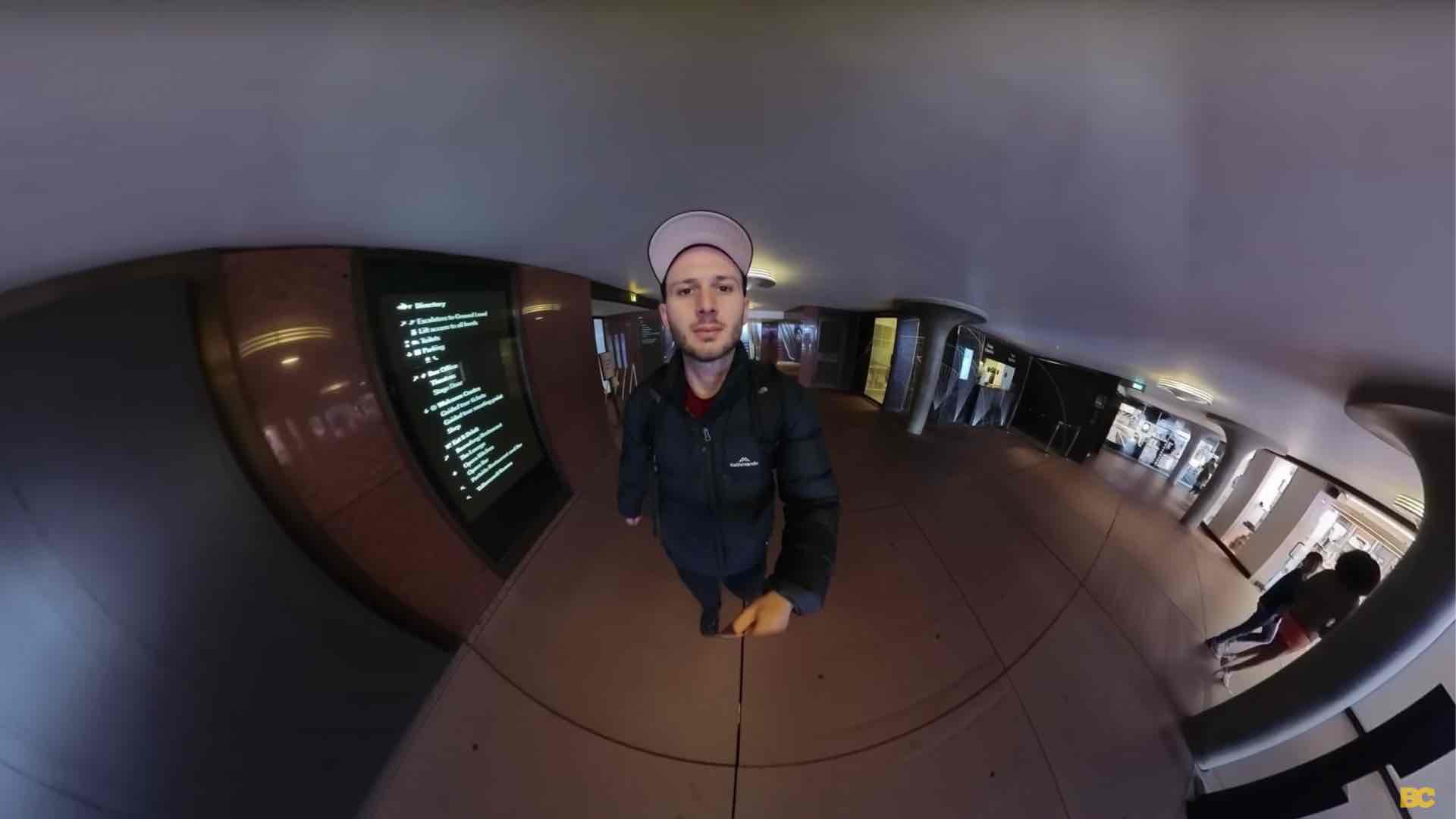 Auto Exposure Mode 🎥

When shooting in auto exposure mode, The 1-inch provided a seamless viewing experience in terms of exposure consistency, especially during the day.
For nighttime shots, I suggest manually adjusting the exposure.
Speaking of low light, here's a shot taken in low light, and it looks awesome. I set the exposure manually, and it's really good. It seems like this camera can excel in low-light situations like this. 👇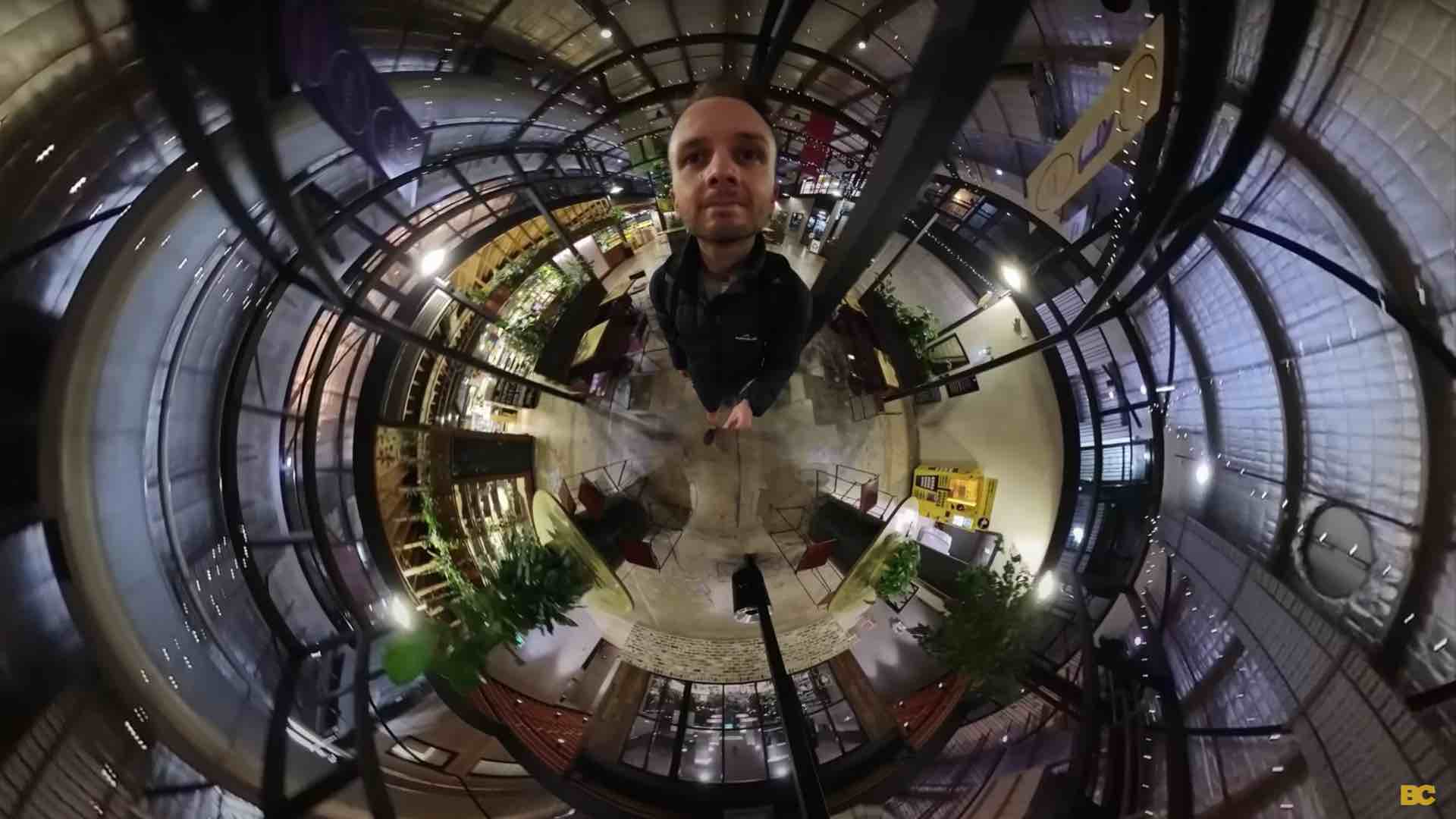 Thanks to its one-inch sensors, it can capture details quite well in medium low light. Consequently, the resulting video is mostly noise-free.
To demonstrate the difference, here's the previous 360 edition compared to the 1-Inch edition. I used the exact same manual exposure settings, yet the right-hand side not only looks sharper, but the colors are better, there's less blotchiness, and most importantly, less noise. 👇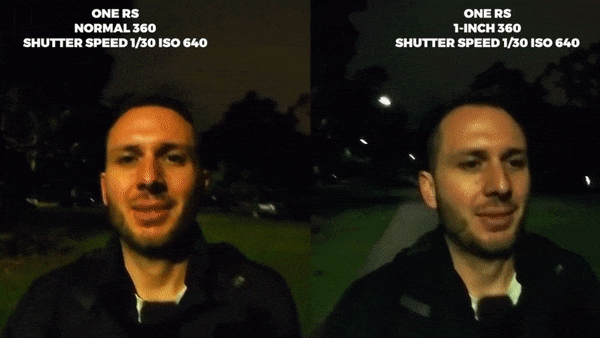 Although there is still some noise, it is nowhere near the level of the original 360 edition, which admittedly performs poorly in low light.
Here's another shot, and once again, we observe less noise, better colors, a sharper image, and more definition with the 1-Inch edition.👇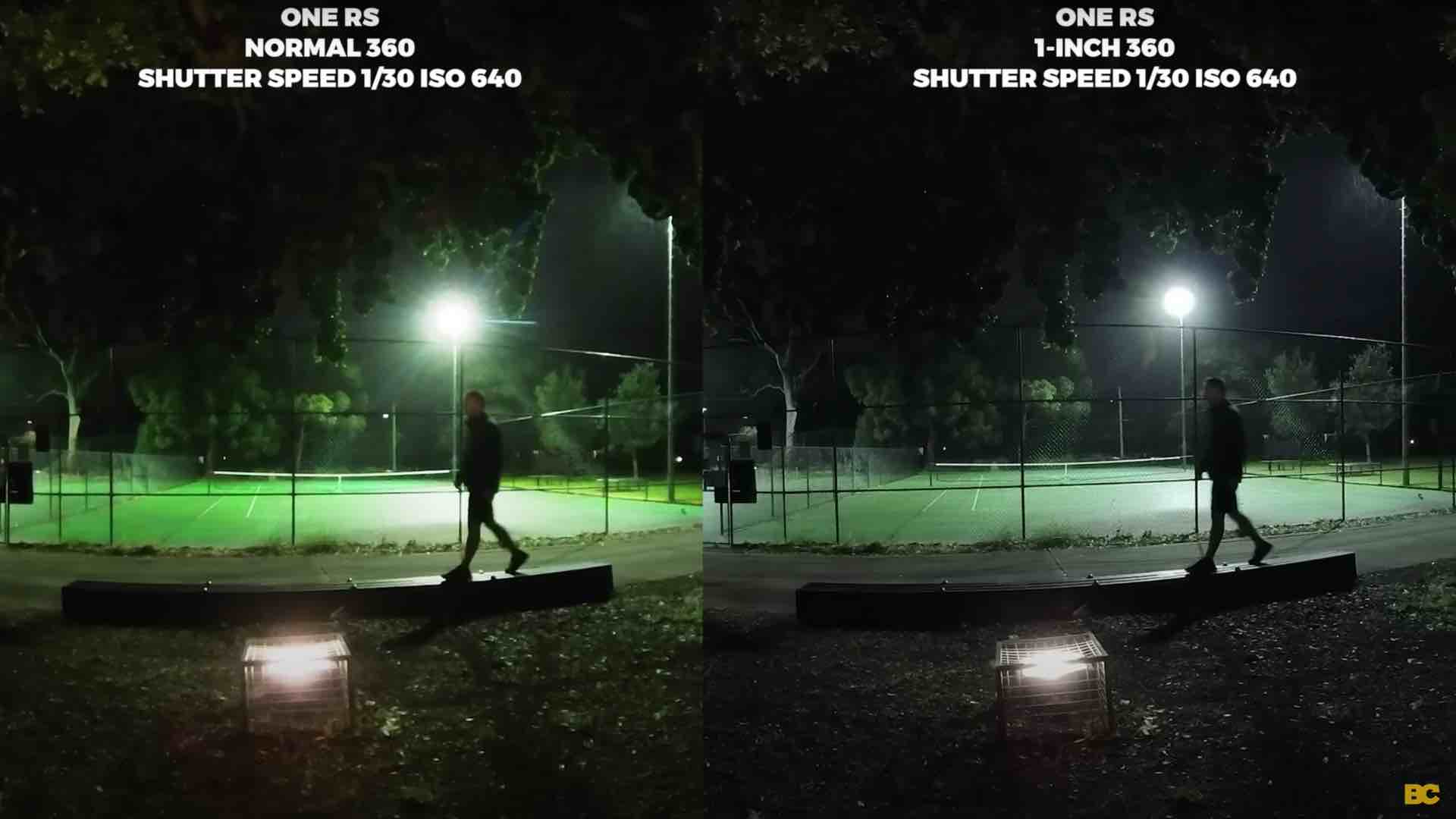 While the original RS is acceptable and usable, it doesn't come close to the level of the 1-Inch edition.
Now, I know many of you were expecting 8K 360 video with the new Insta360 camera.
And while I still think the phone and computer hardware needs a bit more time to easily edit 8K files, I just want to remind people that there are some 8K cameras out there that look terrible.
It really isn't all about the specs, resolution; it's about the sensors, image quality, and lenses. And, I feel like this definitely looks sharper than 6K, so let's call it 7K. It's halfway between 5.7K and 8K based on the footage's appearance.


Stitching 📷
You'll need to stay at least half a meter away from the camera's seam line, or face the consequences.
I found that stitching at the bottom of the shot is okay, but it might cut off your hand if it's too close.
Even when I keep it around half a meter away, it still gets cut off. So, when using it on a selfie stick, you'll need to extend it a bit more. 👇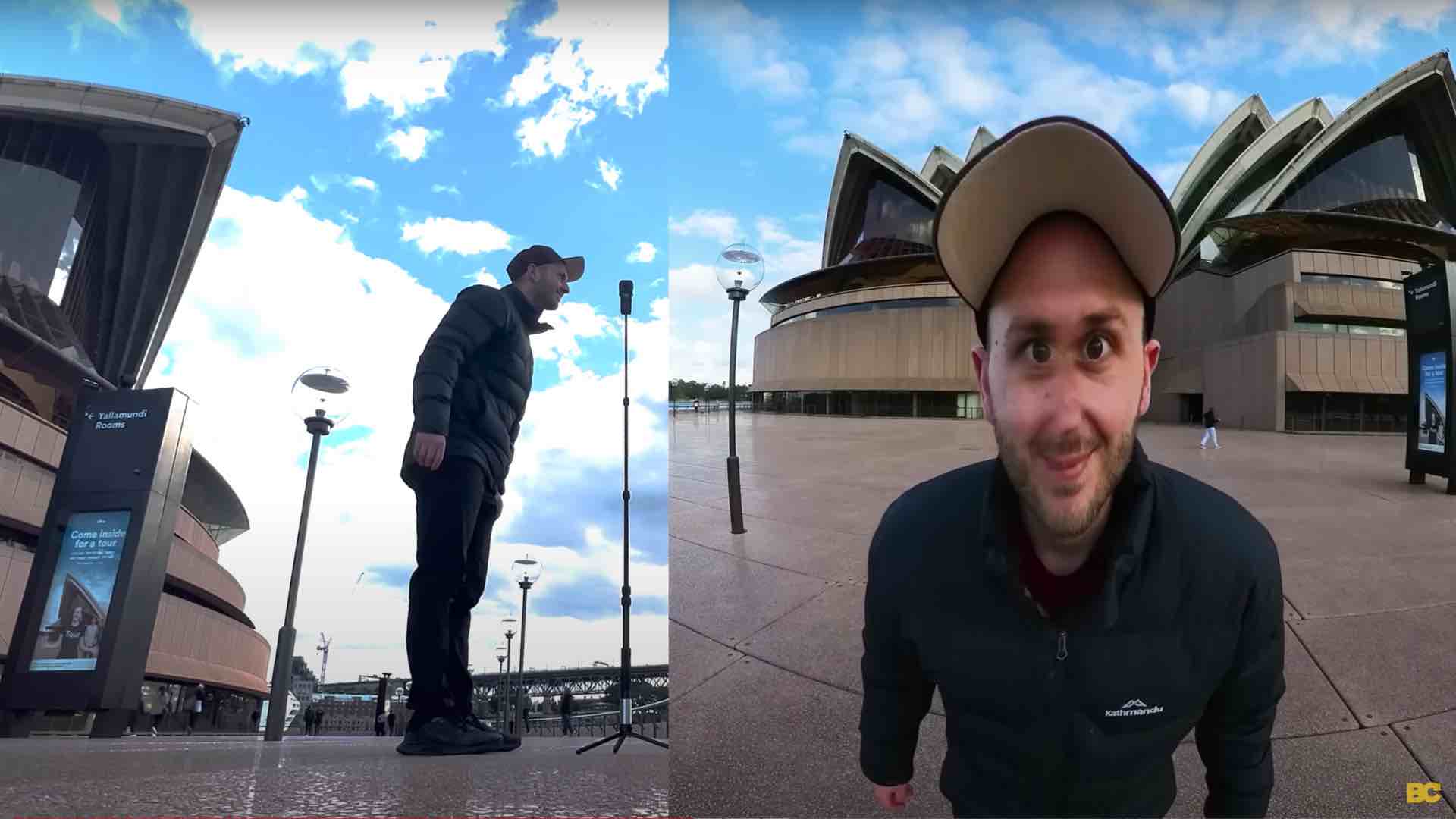 Sound 🔊
The sound is about the same as before. It uses the same core with the same mics. The only difference is the redesigned case. From my tests so far, the sound improvement isn't remarkable, so I wouldn't rely on recording important sound internally.
You can use a mic adapter and a microphone like the Rode Wireless GO.
Unfortunately, the new Insta360 camera is not waterproof, but it is water-resistant. It can withstand light rain or snow but don't push it. I'm sure they will release a waterproof housing for it soon.
Photo Quality 🤳
Now, let's talk about 360 photo quality, and yay, there has finally been an improvement here.
Not only is there an 18 to 21-megapixel jump, but due to the new sensors, it captures much better RAW images, which offer significant flexibility in post-processing.
Here, I reduced the highlights quite a bit, and these shots are highly editable. I can't say if it's on the same level of editability as the Z1, but they are the most editable Insta360 files to date.
This means, as you may have guessed, it is definitely a strong contender for a virtual tour camera in 2022.
Here it is side by side with its three biggest competitors currently. 👇


As someone obsessed with virtual tours and image quality, the first thing that caught my eye among all these shots is that the new Insta360 camera has almost no noise.
The Z1 is quite noisy after using the DualFisheye Plugin with nine-shot bracketing.
The Theta X is not noisy, which is one of its strengths, and the Trisio has a little bit of noise.
But when you compare the Insta360 to the Theta X, there's definitely less noise in the Insta360.
The next thing I noticed is sharpness. When you look at them all side by side, the Theta X is the sharpest. I'd say the new Insta360 is probably second, followed by Trisio in third place, and Z1 in fourth.
But the significant factor for me is dynamic range.


Camera Comparison 🤔
The Z1 wins🥇, followed by the Insta360, then the Theta X, and finally the Trisio.
I can see what Insta360 is aiming for here. They're trying to beat the Z1.
They have succeeded in some ways and failed in others. Currently, one area where they have failed is dynamic range because the Z1, with the DualFisheye Plugin, still offers the best results. This may change in the future, but as of now, the Z1 is better.
The Z1 has better dynamic range, followed by the 1-Inch edition, then the Theta X, and finally the Trisio. But the Insta360 definitely competes.
And I would say that it beats the Z1 in other ways, like purple fringing. This is one of the biggest flaws of the Z1 right now, and the Insta360 camera has the least of all four of these cameras.So that's something to keep in mind with workflows: you'll need to remove purple fringing with the Z1, but you won't with the Insta360. 👇


Now, I'm looking at the blue photo underneath the window frame, and it looks best on the 1-Inch. I think it has about the same amount of sharpness as the Z1, but due to having much less noise, it appears sharper.
Surprisingly, the Theta X is softer, and that's because its flaw is that it's soft around the seam line.
So, after looking at these side by sides, the Insta360 1-Inch 360 Edition is without a doubt a contender for a virtual tour camera.
It surpasses its three competitors in some ways, but not all. And undoubtedly, with future firmware updates, it will get closer and closer to meeting them, if not surpassing them.
I do think this will also be an excellent camera for social media. The dynamic range in the HDR shots is really good and should produce high-quality 360 images in most situations.
I feel like I need to mention software and workflows, but at the same time, I don't because they haven't changed. Everything is the same as it has always been.


Compatibility 🖥️

If you already own the ONE RS, you can use the same core with the new build.
You'll just need to buy a vertical battery, the one-inch 360 lens, as well as the case to hold it all together. This will be slightly cheaper than buying everything again from scratch.
For those who own the original ONE R, yes, you can use the original ONE R core with the new one-inch camera. Again, you'll just need to buy these three things.
You won't be able to use the previous ONE R vertical battery or horizontal battery with the new camera, unfortunately, because they're the wrong size.


Price 💰
Finally, let's talk about the price: $799 US dollars.
Is that worth it? Well, yeah, it is. I think it's important to analyze it for price against other cameras with similar capabilities. I'd say the Z1 is probably the closest. That's still $1,000. Then you have other 360 cameras like the QooCam Enterprise at around $2,000, maybe the Labpano Pilot One. Considering the quality you get with both photos and videos, $799 seems below the average price of the other prosumer cameras.
So, buy this camera if you care about quality and you're willing to pay for it. If you're satisfied with what the cheaper cameras produce, then I see no need to spend more on this camera.
But if you do plan on shooting for VR headsets or reframing your 360 videos and you want better quality, sharper shots, and less noise, then yes, absolutely, go for it.
I wouldn't buy this camera just for the catchy social media effects.
While you can do it and you have access to the Shot Lab and all the other cool effects in the app, you can do that with the ONE X2 and the ONE RS.


So, is this the camera we've been waiting for? 🤔
Yes! 🙌
And here's why:
1. I found it frustrating over the past few years to only see very small updates between Insta360 cameras being rebranded and repackaged as brand new 360 camera releases when it was only a 10% upgrade at most. Whereas with the ONE RS 1-Inch 360 Edition, this is more like a 30% upgrade from what we had before.
2. Insta360 is Insta360, and they like adding all the best features of every other 360 camera out there into their camera. And that's what they've done here. They've taken the best 360 video features, the hardware components like the one-inch sensors from the Z1. They've clearly studied the images, cameras, and workflows of their competitors. And they've put them all into one camera.
While it doesn't outright beat the Z1 for virtual tours, it comes close while also offering a 6K 360 video camera with lots of amazing features. There are so many ways you can use this camera by disassembling and rebuilding it.
So, if you're buying or upgrading your 360 camera and you think you want to shoot 360 photos and 360 videos equally, then in my opinion, this is a no-brainer.
And undoubtedly, it's going to get better and better over time with future firmware and software updates.


Happy 360'ing!
Ben Claremont
🎥

 Get my 360 Video MASTERCLASS & start making viral-worthy videos in just 7 DAYS! 🚀
Learn More
Subscribe To My Newsletter! ✉️
Join my exclusive email list and receive valuable 360 tips, tricks, discounts, and more – delivered straight to your inbox!